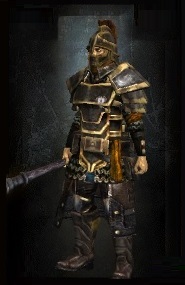 "Armor worn by war-hardened veterans, as acknowledgement for their undaunted dedication on the fields of battle."
The Praetorian is a unique Item Set.
A Player level of 50 is required for use.
Set Bonuses
Edit
1/3
none
2/3
15% Physical Resistance
3/3
30% Aether Resistance
30% Chaos Resistance
This item set is named after the Grim Dawn Alpha playtester group.
Ad blocker interference detected!
Wikia is a free-to-use site that makes money from advertising. We have a modified experience for viewers using ad blockers

Wikia is not accessible if you've made further modifications. Remove the custom ad blocker rule(s) and the page will load as expected.