This wiki is no longer supported. Our updated wiki, https://grimdawn.gamepedia.com/Soldier
A soldier excels in the thick of it. He charges into battle and unleashes crushing might upon his foes. One man and many monsters may enter; but only one man and some bloody smears will leave. Soldiers excel with melee weapons and shields, but are not restricted to them. Most of his skills do not carry any weapon requirements at all.
Soldiers of the imperial army were trained to survive in the most hellish conditions and hold the line against the nastiest enemies of the empire. Soldiers prefer the use of close combat weaponry, such as a sword and shield, but can also prove formidable with firearms. What a Soldier may lack in outright damage output is made up for in fortitude and leadership.
Skill Tree
Edit
Soldier All Active Skills
Edit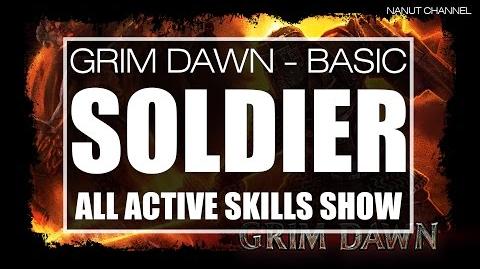 Mastery Progression

Edit
| | |
| --- | --- |
| | Intense physical conditioning necessary to brave the harsh reality of Cairn. |
Each point invested in the Soldier skill mastery gives the following stat bonuses:
+5 Physique
+1.5 Spirit
+3.5 Cunning
+28 Health
+10 Energy
Class Combinations
Edit
Combining the Soldier with another Mastery forms the following hybrid classes: