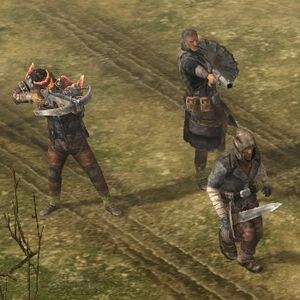 Human enemies are divided into four groups: Bloodsworn (Ch'thonian Cultists), Convicts, Cronley's Gang (Outlaws), and Possessed (Aetherial).
Human Variants
Edit
Convict Lackey
Convict Gunman
Convict Thug
Convict Brute
Convict Skirmisher
Convict Sadist
Possessed Apprentice
Possessed Arcanist
Possessed Elementalist
Possessed Archmage
Human Heroes
Edit
Human Bosses
Edit
Ad blocker interference detected!
Wikia is a free-to-use site that makes money from advertising. We have a modified experience for viewers using ad blockers

Wikia is not accessible if you've made further modifications. Remove the custom ad blocker rule(s) and the page will load as expected.