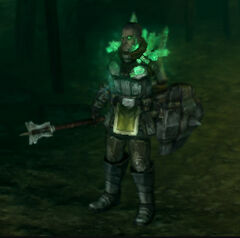 Darius Cronley is a boss creature located in Cronley's Hideout. Killing him is necessary to complete the An Old Threat quest. The player must first talk to him in order to make the fight begin.
Family: Human - Aetherial
Genus: Cronley's Gang
Abilities
Edit
16-22 to 421-560 Physical Damage
7.5% chance of 25% Increased Physical Damage
5-7 to 78-147 Aether Damage
8% Chance of 1.5 seconds Skill Disruption
Can summon a maximum of 2 to 4
9 Seconds Duration
90% Damage Absorption
20% Increased Aether Damage
3 Meter Radius
6 to 305 Aether Damage
30 to 130 Defensive Ability for 2 seconds (Affects Enemies)
16 Meter Radius
20% Increased Life
2 to 82 Aether Damage
8% Chance of 5 to 273 Aether Retaliation
Activates when health below 18%
5 Seconds Duration
100% Increased Aether Damage
Auto-casts Aether Conflagration when hit by projectile with 20% chance
8 to 108 Aether Damage
Resistances
Edit
Level 4 Hero/Boss Resistances
5% Elemental
30% Pierce Resistance
25% Aether Resistance
500% Reduced Knockdown Duration
12% to 14% Reflect Projectile
Notable Drops
Edit
Ad blocker interference detected!
Wikia is a free-to-use site that makes money from advertising. We have a modified experience for viewers using ad blockers

Wikia is not accessible if you've made further modifications. Remove the custom ad blocker rule(s) and the page will load as expected.