Nucus'Dal is a The Outcast Faction Bounty.
Bounty Text
Edit
I have sensed the presence of an old nemesis, a harbinger known as Nucus'Dal. I thought him destroyed, but I was wrong.
The harbinger hides within the Necropolis, awaiting the return of its godlike master. You will cut its waiting short.
Eliminate Nucus'Dal for me and I shall reward you with something from my collection.
Objectives
Edit
Slay Nucus'Dal (0/1)
Return to the Outcast's Bounty Table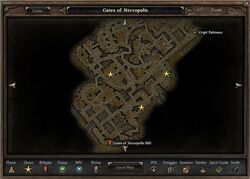 Nucus'Dal, a Chthonian Harbinger, can be found in several places around the Gates of Necropolis, as well as inside the Black Sepulcher.
Normal
Elite
Ultimate
XP
5000
9000
Reputation
+150 The Outcast
-50 Chthonians
Item
Random Partial Component
Ad blocker interference detected!
Wikia is a free-to-use site that makes money from advertising. We have a modified experience for viewers using ad blockers

Wikia is not accessible if you've made further modifications. Remove the custom ad blocker rule(s) and the page will load as expected.