Blood Rites is a Black Legion Faction Bounty.
Note that this Bounty is presently unavailable.
Bounty Text
Edit
The Legion requests assistance with a priority target.
A massive chthonic rift has opened near the Necropolis from which pour hundreds of Chthonic spawn. We call it the Bastion of Chaos. Deep within, there dwells a powerful creature known as Lagoth'Ak, Harbinger of Blood. If he were slain, we would land a crippling blow to the Chthonians.
The Legion is willing to share some of its rare materials with anyone that manages to accomplish this impossible task.
This bounty requires a Skeleton Key.
Objectives
Edit
Slay Slay Lagoth'Ak (0/1)
Return to the Black Legion Bounty Table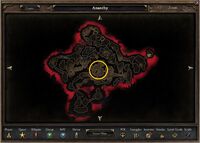 Lagoth'Ak, Harbinger of Blood can be found in the 3rd level of the Bastion of Chaos.
Normal
Elite
Ultimate
XP
500
9000
Reputation
+1000 (Black Legion)
-50 (Chthonians)
Item
Random Rare Partial Component
Ad blocker interference detected!
Wikia is a free-to-use site that makes money from advertising. We have a modified experience for viewers using ad blockers

Wikia is not accessible if you've made further modifications. Remove the custom ad blocker rule(s) and the page will load as expected.