A Strange Key

Quest Info

Given by:

N/A

Location:

-

Faction:

N/A

Type:

Side Quest

Prerequisites:

Unlocks:

Rewards:

XP
This is a small Act 1 side quest that begins after finding the A Strange Key quest item.
The Key can be obtained in two ways. Direni will give it to you if you let him live in the A Cultist in the Midst quest, otherwise it has a chance to drop from the Cultists in the Cultist's Lair (and the surrounding area in the Foggy Bank) or Burrwitch Outskirts.
Objectives
Edit
Use the Strange Key to enter the Depraved Sanctuary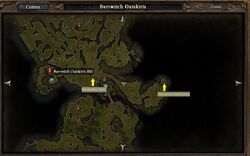 The Sanctuary is located in an area some way to the east of the Burrwitch Outskirts Riftgate; find and destroy a section of breakable wall by the road and continue east to access the area. Unlocking the Iron Door entrance completes the quest.
| | Normal | Elite | Ultimate |
| --- | --- | --- | --- |
| XP | 300 | 6500 | 22000 |
Access to the Depraved Sanctuary is also now allowed.
Quest Log
Edit
Quest log
You are in possession of a strange key belonging to the Cult of Ch'thon. It will likely grant access to one of their hideouts in the area.

Objectives:
Use the Strange Key to enter the Depraved Sanctuary
Ad blocker interference detected!
Wikia is a free-to-use site that makes money from advertising. We have a modified experience for viewers using ad blockers

Wikia is not accessible if you've made further modifications. Remove the custom ad blocker rule(s) and the page will load as expected.